I jumped onto a Social Audio 101 Twitter Space, it was really good with lots of takeaways.
Let me know on Twitter if you find this useful. ❤️
It was recorded (I'm not quite sure how to access it just yet).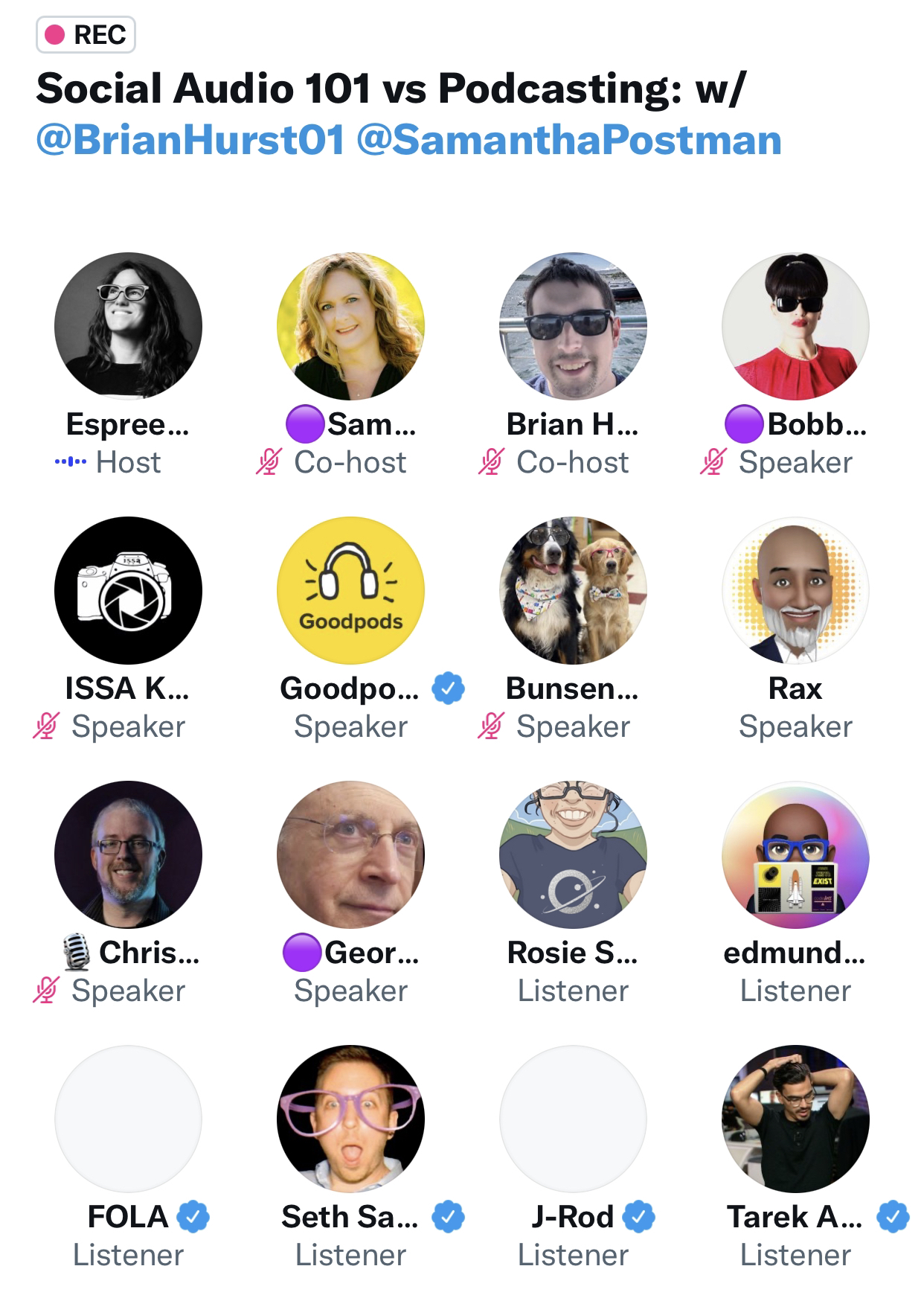 🙏🏽 Sorry, I'm not quick enough to type names and give credits to all that was said.
🙏🏽 Also, I dropped off towards the end.
What's the difference between social audio and podcasts?
Podcasts - you don't know who your audience is
Social Audio - is more social, able to quantify, cater
Social Audio - is more authentic, allow them to speak, you don't know what they're going to say, it adds a vibrancy, it adds an element of surprise, unpredictable, vulnerable
e.g. Elon musk spoke to a 19 year old in India
There's intensity, less small talk Espree mentioned Issa Khari (@IssaKhari) who is a great moderator Issa Khari looks at social audio as a live stream without video
A lot of Issa's skills is filling in dead space with commentary
'Think in terms of streams'
'Art of livestreams'
Another thing we don't have to do as podcasters: fill up those breaks, we can just cut it out.
Social Audio can be repurposed into other content.
Samantha - Words are fluid, social audio could be seen as Podcasting 2.0.
Social Audio can become podcasts. e.g. do Twitter spaces, in style of podcasts, then release it as a podcast later.
Pro for podcasting: is the editing Social audio: there's a lot going on, speak, interview, do DMs, engage with the audience, trolls. It takes time to get the hang of. Social Audio: there's a lot of blank space.
How do you bring value in the blank spaces?
Lots of it is learning on the fly. Learn tools from top live streamers. Study live streamers. Go with the flow. Work with it. Be aware what's going on. Don't take it too seriously. Learn from comedy, broadcasting, etc. Might sound funny: respect humans Moderators need to be a source of love and inclusivity. We need to create a room that is vibrant, safe, protected. Issa - predicts that social audio will become it's own thing, people will be creative, a new breed of content creators will find new ways of creating things. Social audio: are we doing an interview, or attending the audience. It's hard to focus on who to serve.
Tip: segment your space. First half for podcast, second half for questions/participating.
Twitter spaces: you can nest slides into the spaces. You have to think of it like a live broadcaster. You have to be prepared. You have to have a script.
Tip: before you go live, update the Twitter app (new features are always being released).
Watch out: like with Periscope, these platforms can disappear Everything has an end, and that's ok. Bobbi Bicker - did a lot of Periscope for the community Social audio is about the community, connecting, sharing stories.
What are some things you think about when elevating others?
Tip: You can't expect anything in return In social audio, there can be much more excitement.
How do you think about programming compared to podcast and social audio?
Social: some people are chaotic and random, a plan is always good, a brand is helpful
Social: on spaces think about what you want people to take away/know
Be intentional: Make sure you create value, copy value, don't copy poor tactics, or a sales machine
Make sure you pick something you are passionate about. Tell your story. Grow with it. Have fun, experiment, grow with the community.
Classic social audio: learn how to deal with dead time ☠️
Social audio is another way to create content. Content to be: Entertained. Educated. Inspired. Laugh.
What's great: we get to practice different versions of ourselves.
Tip: you can create call to actions straight away.
Tip: leave time after a social space for interaction or DMs afterwards Live interaction for social audio is powerful.
Live feedback. It's powerful.
Social audio: no reason you host workshops
What's lacking: interactive group discussion, it needs more interaction, to help people get to a deeper level.
Twitter Spaces isn't purely social: it has reactions, tweets, DMs. Twitter spaces isn't elegant for converting it into podcasts. It's still raw.
Tip: think about the incentive of the listener who is or will tune in.
Tip: if you convert a social audio recording to a podcast, edit it to remove the elements that don't make sense. e.g. dead space, requests to raise hands.
Tip: have a social discussion about your podcast episode
Tip: Put a record button at the top, for transparency and reminder that it these are recorded, whether you are recording or not. Record button can stop trolls appearing. It could potentially create a higher quality audience. (edited)
What is the world you want to create around your podcast?
social audio may be a way to connect, keep in touch in between recordings, get new ideas, etc.
It's really important to be sensitive, different cultures, communications, view points - be an excellent listener, explain the rules of the space
Be mindful that social audio can get lost in translation.
Recorded audio: - before considering recording, get good at facilitating - consider practicing muting of participants nicely when conversation isn't going in the right direction
Social audio is a more connected community (feeling included, connect, seen), rather than fandom for podcasts.
How would you monetise Twitter Spaces:
it's possible via some of their features
don't become a douchy sales person
create a bunch of slides ahead of time, share them, then track the clicks, DM people, share the links, ask people to bookmark links. (Can use this to sell stuff, this example was specifically made in relation to a book launch).
Thinking about Twitter Spaces, workshops and education. And also what should we be covering. For example, improv could be a really valuable skill.

Improv: "the power of yes and"