🔥 What makes a community tool is such a spicy and debatable topic, one that continually gets me fired up.
The dangers of the limited community tool mindset
When people think about community tools the natural tendency is to think about chat tools like Slack and Discord. Or forum type tools like Discourse or Invision. Or we can think about more social tools like Facebook Groups or Twitter Communities.
The assumption becomes that, for it to be a community, everyone must have freedom of voice. And that it must be a many-to-many relationships.
The reality is that good communities find a balance. It's not a free for all. It's gathering, understanding and working towards solving problems. It's also managing the overwhelm of conversations and deciding what conversations need to happen and where.
In community we need to do more than just talk. Communities exist to create progress, to create progress we need to do more than just converse. Yet all the above tools focus on conversations only. They are not bad tools. They are great. But they are just part of the picture of what a community is.
This is actually more problematic than we may realise because when people think about the community they need to build, they jump almost immediately to these tools. Even asking what tool they should use before considering any other aspect of what the community should look like.
It's even gotten to the state that we feel we can only have one tool. Like the community has to be a forum or a chat tool. The reality is you can have both and you can even add more onto it if you like. Rosieland has a blog/newsletter, forum, a Slack (for paid members), a Twitter Community, and a LinkedIn Group.
And we are not the only one who rocks up community like this. It's a mindset that building community requires many tools. And the community tools to choose from aren't completely obvious.
🌶 So, what is a community tool?
Here is my rosie perspective.
🌈
A community tool is one that facilitates communication and the publishing of information.
And yes, sorry, this means so many potential tools: social, blogging, website builders, google docs, Notion, white board tools, email marketing, newsletters, podcasts, videos...and of course chat and forums. They're all community building tools!
Communities are products, we need to think of them in that way. To create a good product you need to do all sorts of things to make that product a success.
In practice and in a community context, this means you need things like:
a website
ability to publish or curate content
an email list
a social media presence
ability to create and host events
a place to have discussions, virtually or in real life, sync or async
focus on progress through the outputs you are working towards
a focus on sustainability and growth
Therefore, to build community you need a whole range of tools to help you get there, just like any product needs to make use of a bunch of tools.
We have 'email marketing' because marketers developed tools around email to do marketing via email. You can almost hear marketers from the past asking themselves how they can do better marketing...and email became the thing. There are many ways to do marketing. Email is just one of them.
Email marketing is not nearly effective as it once was, it's actually pretty overwhelming now. However, that's also a good reminder of how tools and trends change. We must keep an open mind.
There's no reason why we can't use email to build community, but are we marketing to our people? No. Or at least, we shouldn't be. 😈
When we use email in community we use it with a different purpose:
to uplift people
to educate, share news or member content
to invite people to a discussion or to comment
to invite people for a 1:1 chat
to invite people to events
to invite people to speak or write
to ask them questions
and more, there is literally no limit.
Therefore, email marketing and newsletters are a community tool.
We can also look at content in general as building community. I love using Smashing Magazine as an example. They focus intently on their people. They care about great quality content, written by people that care about their craft. They use their website and Twitter a lot to elevate people. Their community is strong without their actual community membership, I believe that came much later.
Smashing Magazine links out and shouts about its members all the time. The below image shows them highlighting a member of the week and links out to blog posts members have written. This is on the homepage of their website and also on Twitter.
How does this not build community? Do you know of a better way to show you care about your people?
Events are great for community building. Some have community features embedded within, chat down the side or the ability to collaborate on docs together. It's hard to keep in touch after events, which is where other tools come in handy, especially email and blog posts, to keep members informed about all the things.
Podcasts are a great community building tool too. You can have deep conversations with your people. You build relationships, understanding and knowledge. You can then keep people informed about your podcast via email and social. Please, someone, tell me how does this not build community?
Substack is an amazing community tool that no one calls a community tool. It's a newsletter tool, apparently. Yet it's pretty amazing at allowing collaborative publishing. People actually comment and like posts. They have threads which is basically a mini version of a forum. Not to mention podcasts. Ability to email easily. And of course you get access and insight into your members.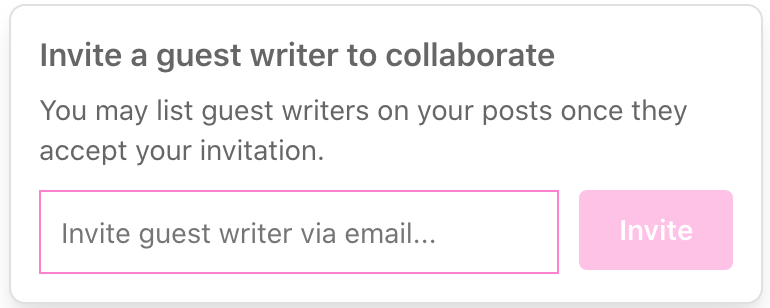 Substack also taps into a network effect, not only by supporting and making it easy to read latest posts, but also by switching on recommendation of other newsletters—a community approach to this would be to use this feature recommend up and coming member newsletters.
What I'm getting at is that none of these tools work in isolation. To build community we need a bunch of them. Less to start with, more as we grow.
Of course, just because you are using any of these tools, it does not mean you are building community. You build community when you use the tools with the right intention.
It's where the tools help us get that matters
Sometimes I think we forget about the goals that we are working towards, we get influenced and distracted by vanity metrics. We often feel that these tools help our communities get somewhere, but do they? How can you prove it?
You can have a forum, or even a Substack thread with hundreds of comments. But so what if that doesn't help people progress or connect?
At each point of the journey we should be asking ourselves if the effort we are putting in is worth it.
what is the ROI?
is there a simpler way to reach our goals?
how is this actually helping people?
how do our people feel?
how are our people making progress?
why would our people choose to come back?
how are we showing we care about our people and our cause/industry?
where is the energy happening?
how can we create MVCs first to prove our hypothesis?
how long can we hold off on adopting any new tool?
how will we sustain it?
how does it fit into our community flywheel?
who will do the work to ensure it is a success?
is this the work we want to do as a community?
It's our responsibility to deliver value for money. And part of that is deciding the tools we use and the positive outcomes we think we can achieve.
Of course good and bad tool choices can be made.
I had a community on Discord and ultimately it turned out most of the people there didn't like Discord. Moving to Slack actually did fix things. That community is now slowly using more tools, in this instance a Substack.
However, much of the time we can think the problem is a tool problem when it is not. The amount of times I see people moving from a Slack to a forum and even back again to a Slack is hilarious.
Trends can change too. A Slack or a Discord use to be a novel idea and easy to get people to sign up to. These days people are overwhelmed with being signed up to too many chat spaces, or the ones they are signed up to are too noisy. Having a variety of tools de-risks your community, it makes real community business sense to spread the amount of ways you can connect with your people.
Community builders need to get comfortable with quietness and slowness at the beginning of a journey. Yet, I still feel like it is a natural reaction for community builders to panic if their community space has very little activity.
The reality is that we should build confidence through community discovery, starting small and build up those process driven community flywheels. If we have that confidence and that foundational discovery in place, then we can march ahead knowing that our chances of success are higher.
It really does take time to hit on what works, gain traction. And time is often what we and businesses don't give our communities.
Time to:
get to know people
adjust the space
understand what people need and care about
know what we can actually act upon
to create good outcomes and opportunities for our people
build trust
build an email list
become searchable
get personal recommendations
give people confidence to participate
With time we can create a refined and more tactical approach to building a community strategy. It's hard, if not impossible, knowing how things will specifically work out in advance.
Tools can be used for anything, you can just as easily alienate your members than bring them together. Whatever tools you do use, they must all be used with the mindset of building community. The moment you become transactional, people feel it and they run away.
Everywhere I turn I see companies building amazing communities. What makes them great is the focus on helping their members. The tool choice can help.
Letting go of semantics to open our minds to the possibilities
I know some people will disagree and find the need to stick to a certain way of describing tools. And perhaps it is dangerous to call almost any communication or publishing tool out there a community tool.
However, I will tell you this.
Once I started thinking more like this the more it opened my mind to the possibilities that we could create within community. We become less restricted in what we can do. Our creativity can be set free, our ability to see and grow multiplies.
The more we experiment. The more we mix and match all these tools. Then the more we will create new boundaries of what communities can be. The possibilities to create community flywheels almost becomes endless.
And that idea of communities being able to be more, or be better than what they are today is what I'm here for. 🌈