Next up in our Rosieland Community Interview series we connected with Lexi Kakis, Community Engagement Manager for the Uncovered Community. "Uncovered is the nation's largest crowdsourced database for unsolved cases of the missing or murdered."
We learn how Lexi went from social media to turning her interest in unsolved cases into a full-time community role. Lexi shares how she went from avid community member to employee,  takes to help build community from the ground up, and lessons to share with future community professionals.
Getting to know Lexi, Uncovered Community Manager
What's your background and how you found yourself in community?
I got my undergraduate degree in media communications. Before my current position, I was the social media director for Bespoke by Luigi Gentile, a custom furniture manufacturer located in Manhattan.
My community journey began when I joined the Uncovered Community as a member in April 2021. I was incredibly interested in unsolved cases of the missing and murdered. The first case I ever researched for Uncovered was the unsolved murder of Melissa Witt. I was an incredibly active member, which caught the attention of our leadership team. A few months later, I was asked to join the team as the Community Engagement Manager, where I currently manage our social media platforms along with our community.
Uncovered is the nation's largest crowdsourced database for unsolved cases of the missing or murdered.
What do you wish you knew before embarking on your community journey?
Lean into levity, when appropriate.  Sometimes you need a thread for pet photos, ask what everyone is watching or how you spent your weekend!
Understanding the Uncovered community model and growth
Tell us about the Uncovered community mission and 'superpower'.
My community's mission is to turn your true crime interest into advocacy. We believe wholeheartedly that together, we can make a difference.
Truthfully, our 'superpower' is our community members; some have partnered together to create their own advocacy efforts targeted to their local areas.  Our community acts as a home base for a lot of our members. We've created a space that empowers our members to ask questions, especially when stuck on research or advocacy. Our members share their own experiences, offer insight, or advice on what worked for them. In some situations, having a different insight can make a difference in understanding a case.
A perfect example is the Alabama Cold Case Advocacy Group (ACCA), created by two members (one of whom isn't even local to AL!). They've since created a podcast, website, and Facebook page. Recently, someone from ACCA asked if anyone in our community had experience with or knowledge of the foster care system because of a case, and one of our new members was able to offer her insight as a foster parent for over 15 years.
Our members are incredibly supportive of each other. I can post about a petition for a state-wide cold case unit, and people will sign and then share it on their own socials. The work we do is very human-centered, and it's essential to surround yourself with people who inspire and encourage you to continue towards justice and advocacy.
What tools and technology do you use to run The Uncovered Community?
Our community is hosted in Circle. We use Zoom to host events, Canva for social media content, and community images. Our case research team created a custom Digital Case File template to capture case information using Google Sheets. For our more advanced researchers, we also use Airtable.
Describe the business model for The Uncovered Community and how you arrived at that decision.
The Uncovered Community is a paid community, however, we offer complimentary membership for victims' families.
With close to 50,000 cases, our database is the nation's largest cold case database. It includes missing, murdered, unidentified, and suspicious death cases. Currently, we have over 500 visualized cases, which means they've been researched by our team or the community, and include a victim-centered narrative, timeline with a map overlay, key people, and sources. Additionally, we have a "How You Can Help (call to action) " section, encouraging people to share the case, sign petitions, listen to podcasts, and in some situations, "Can you identify X?" (this voice, this sketch, this scarf, etc).
Essentially, our researchers (community) pull together all of the publicly available information about the case, creating a digital footprint of the case in one place.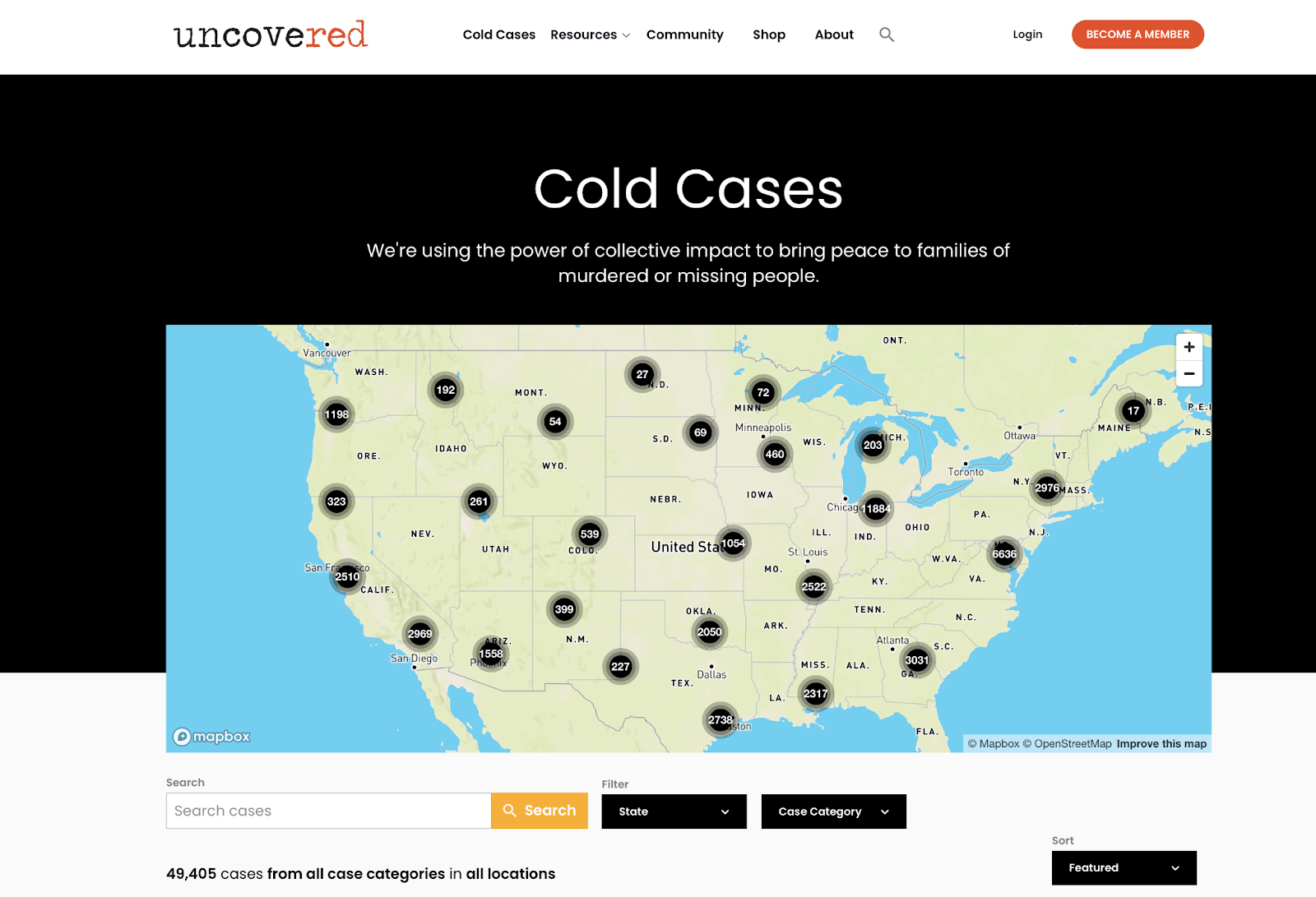 Our cases are all crowdsourced, and the public can submit information (local news articles, podcasts, newspaper clippings, etc) to help fill in the gaps. To submit information, we require users to have a free workspace account.
From an advocacy perspective, having all of the information in one place makes it easier to share these stories.
Our database users are much higher than the number of community members because our community members are the 1% of people who want to really dig into a case.
Uncovered is a B Corporation, and every quarter we donate 2% of our revenue to organizations that work tirelessly to support victims and their families. The power of collective impact is what helps us know that together, we can make a difference.
What did you find worked well for bringing growth to the community?
Our members are loyal, which has been invaluable. We often ask our founding members for feedback on new ideas or what types of events they want in the future.  We've seen growth from our active members supporting us on social media.  
Interestingly, we've had people join after hearing about us on a podcast, whether it's an interview about what uncovered is/does or if content creators are referencing the database as a source. When dealing with such sensitive and personal stories, I believe that a trusted referral from a family member or advocate goes a long way.
What types of community generated content (CGC)has worked well?
We love to switch it up in our community! We try to hold at least 1-2 events monthly, sometimes more. We've recently opened our events up to the public, which has been incredibly successful. Part of membership includes access to replays of our events. Some of the events include:
Case discussions,  trivia nights, happy hours, watch parties, skill shares, research support groups, research groups, etc.  AMA's with authors, genealogists, podcasters, and retired law enforcement.
In February, we held Justice Delayed: Renewed Effort to Solve the Nancy Eagleson Case, which showcases how collective impact can move an unsolved case forward.
Lessons from failure and what's next for The Uncovered Community
Share one community failure and what you learned from that experience.
Rather than failures, these are more challenges in community building. There's been a lot of learning curves with the circle platform. Circle is convenient but it's also limited. For a while the mobile app was very glitchy. There were some features members would ask for that were beyond our control. We would have to wait for Circle to launch those features. I.E: Ability to send photos and files in DMs, or dark mode.
What's next for the Uncovered community?
I am really looking forward to see the community continue to grow!  As more members join, we can advocate for more cases and push them forward. We've been able to connect with some fabulous organizations that have helped us move these cases closer towards a solve or resolution.
We hope you enjoyed this interview with Lexi and the Uncovered community journey.  We'd love to hear your thoughts in the comments!