🌱 Amidst the chaos and my personal increased general dissatisfaction with social media I had a seed of an idea.
I had already been spending time this year showing up more intentionally in communities before checking my social media. What this meant in practice is that before checking my socials, I would check and serve my communities.
I'll continue to use and appreciate social media. However, my communities are my real love. And sometimes they need a refresh, or a re-think. We shouldn't be scared to experiment.
As we head into 2023, it's a good time to mix things up.
Slack is only a part of the Rosieland community
And a relatively small part. Our newsletter and events are probably the core of Rosieland. Our forum is there for permanent conversations for anyone to contribute to. Our Slack is for paid members, and not everyone cares to join, but that's ok.
I view our Slack more of a place of doing things.
We talk about things that often we don't just want to do in public. We collaborate and plan for things. We DM each other for ideas and support. We curate and share information there first, some of it ends up on our weekly newsletter.
Slack is basically a place of action to help us towards outputs.
I wanted a refresh of our Slack
I wanted my "tweet type" content to end up in Slack instead, or in addition to, Twitter and the current set-up didn't work. When I have something on my mind I just want to share it. Most of my tweets are written in the moment, they are a real representation of what I'm doing or thinking about.
This is what Slack roughly looked like before changes were made. I forgot to take a screenshot, but luckily I had previously shared it on The Village.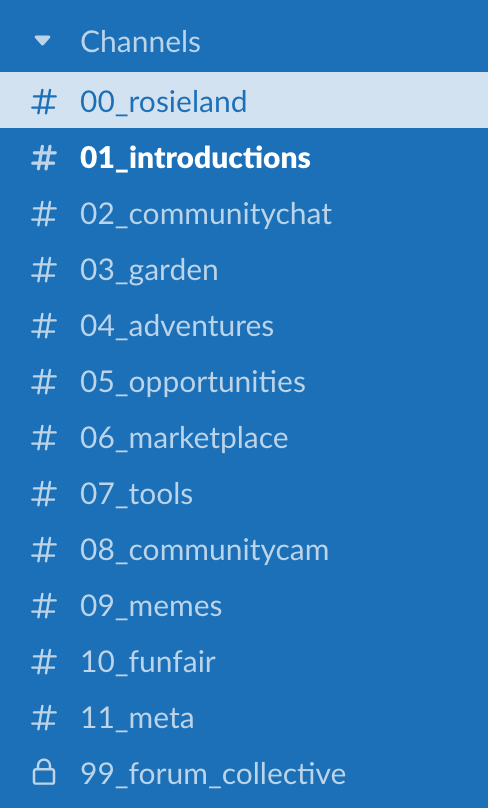 We already had CommunityCam as previously inspired from an Indiegram channel I have for another community I run.
My idea was to take this idea further. What if (almost) every channel was a reflection of what people do on the social and outside digital world?
And so we proceeded to make the necessary changes...
Unveiling the Rosieland social inspired Slack channels 😅
Here is the channel naming and structure we ended up with:
Townhall: Rosieland announcements and new content
Introductions: I really need a better name for this, but for now it will stay as it is
Glitter: think Twitter, we share sparkling gleets? ✨
Rainbowtimes: think news(paper), a place to share news, articles, tweets, etc.
Rikrok: think short videos like TikTok
Marketplace: I'm still stuck for a fun name, this will do for now, think jobs, opportunities, occasional self promotion and a place to sell things. I partially have ebay in my mind for this, but I can't find a name to play on that works.
CommunityCam: Think Instagram, photos of us or things that inspire us. There's a bias towards rainbow spotting here.
Rainbowhunt: think ProductHunt, it's for sharing tools we discover and use.
Meta: it doesn't really get used, but I'm keeping it there as a safety thing. A place to ask questions about Rosieland. It's not related to that company that use to be called Facebook.
Then the collective channels are themed slow-paced learning channels. Kind of like a more relaxed learning cohort.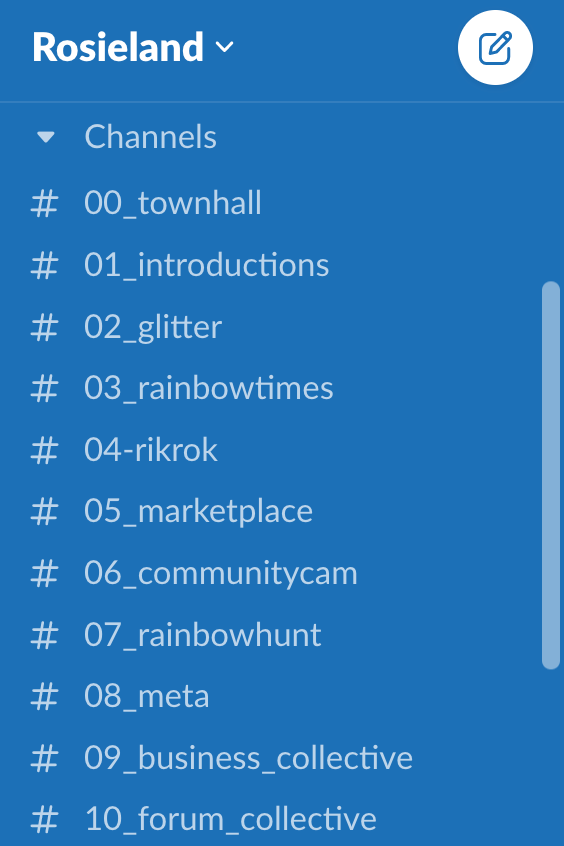 It's a bit of fun, it's also on-brand
Part of community is about being creative and exploring different ways of being. This change is also about playing with the Rosieland brand. The rainbows. the 'R's. The sparkly fun that we love to encourage.
I also realise that the sudden change can be confusing. We've had no complaints so far, and I'm doing my best to lead by example.
When some new members joined this week I was super conscious of how confusing it might be for them. I dropped them a quick note explaining the structure. In future I will likely drop them a link to this post.
No big learning here, yet.
My hope is that it will create a shift in our habits. That we can become more aware of how we interact elsewhere and bring those mental models to how we run our community Slacks.
But the real truth is that I was super excited to talk about Glitter.  ✨
😅