Let's talk about building community strategies that support an organizations people (the team), programs (from marketing to education), and products (the full user experience).

First, some fundamental concepts to consider.
1. Expanding your definition of community
As I often mention, a strong, healthy community is made up of a web of bonds between members.

I'd like to suggest that this web of bonds should not just be between your community members, but should be a larger web that interweaves your organization's team members, too.  
2. Start with your organization's internal community first.
If you don't already have a FULL HUMAN first culture, community work will be very hard. Why?  
This is because in order to form true community bonds, your users or your people really have to be able to show up as their full selves AND get signals that this full human belongs in the space. If you can do this, over and over, trust and bonds will form. If your team can't show up fully and feel belonging, it's going to be a stretch to offer that up to your users.

You should also have a clear and strong mission and purpose that attracts and motivate your team, and can be extended to the entire community. People have a lot of choices on where they can work, spend their time, and there are a lot of platforms that allow anyone to create their own jobs and communities!

Your mission is going to be the driving force for a ton of this work. It has to be authentic and your team and your community has to see you prioritize the mission above all else. They will sniff out a fake mission so quickly!
3. Creating a one community vibe
Often I see community work existing outside of the user experience. You might have a Discord channel, or Zoom events, and these get surfaced to your users through emails alone.

This creates what I call a 'community island', where your community members live and hang out and it's very separate from the 'mainland' (or full user experience).

Instead, work to plug community activities and programs into the main user experience. Here's why:
Your team will have to make a special trip to hang out with your community.
You'll need really strong signals before you understand what's happening over there.
You'll most likely start to create an us vs. them dynamic.
It's likely you'll silo your community manager, making it harder to align community work with business outcomes.
OK, with these basics in mind, let's have a look at how community can serve your brand or organization!
Community-led Programs
Your community can bring marketing, customer success, and education programs to the next level. Let's talk about sharing ownership and sharing program benefits to increase innovation and impact.

Here are three prompts for brainstorming ways you can support more impactful programs with community:
Motivation: How can we find and activate our most engaged and inspired users?
Support shared ownership: What do they need to be hosts to a small group of users like them?
Rewards and recognition: How do we share the benefits of the program with those who've stepped up?
I was on the Etsy community team very early on, and we started planning a party for our 1 year anniversary and it just felt so small. We didn't have the budget to fly in our biggest community supporters and sellers, having a party at our office for our team and our investors, press, and locals just wasn't our jam.
Case Study: Etsy Craft Parties
We came up with a way to include as many people in the global community as possible, using our party budget.  We invited anyone in the community to volunteer to host a party, and the top 100 parties with the most RSVPs were sent party kits. In these kits we included handmade swag, photo backdrops, and photo booth props. Each year Etsy sellers voluntarily hosted 600+ Etsy Craft Parties for tens of thousands of community members!

More examples:
Laura often talks about using Dan Pink focus on 3 motivators for engagement: Autonomy, Mastery, Purpose. She's used this method to motivate community leaders to host events all over the world as well, at one point I know they had 600 events per week!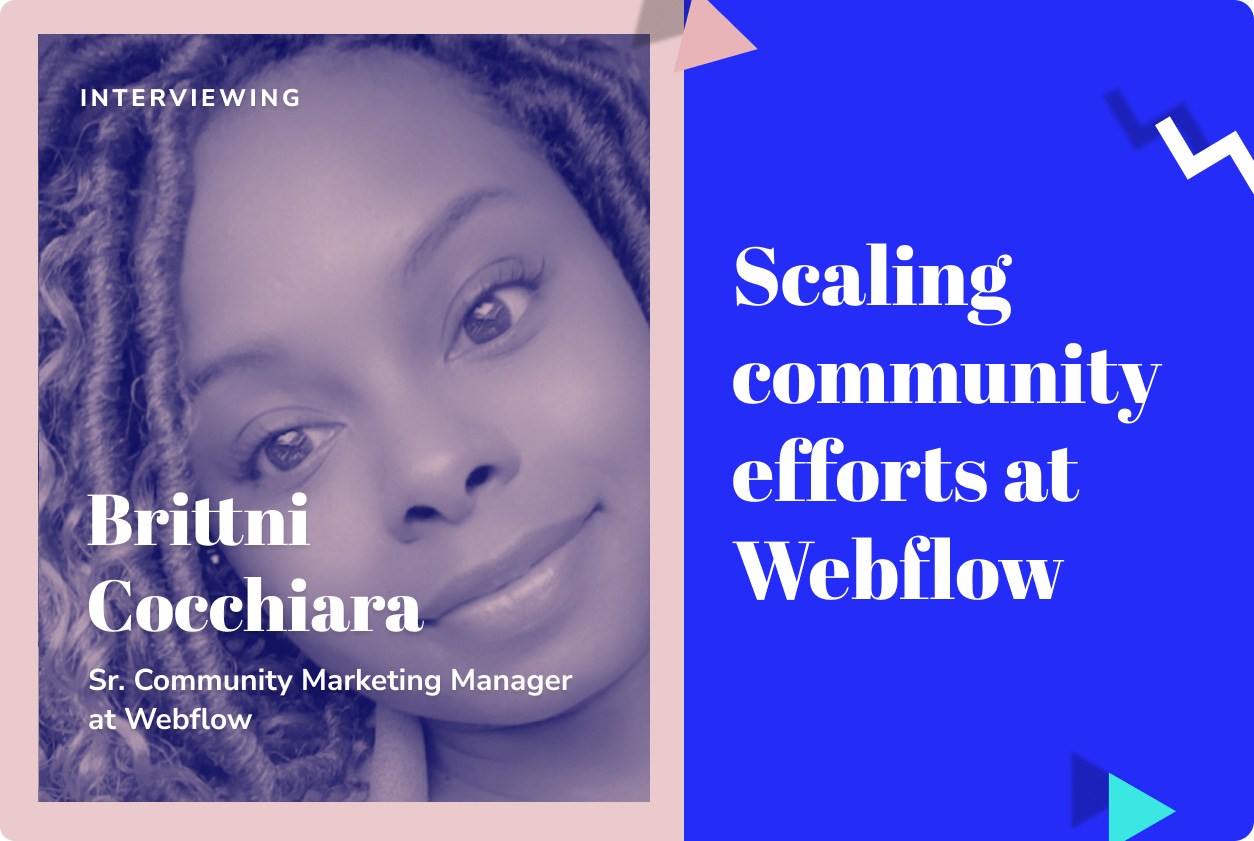 Brittni at Webflow (who also built up the Miro community) supports multiple community forums, and a chapters program that has 78 leaders leading meetups and workshops!  A small team can really make a huge impact by sharing ownership with the community. Read more about her work.
Community-led Products
How can community support a better product? There's a lot of content out there around community-first product building, and how to build with and for your users. Here are some of my top tips and examples of this done well. I'm mainly going to focus on bringing your community members into the fold when talking about new features, policies, and updates.  

First, you need to start with your internal community and truly be a feedback positive culture. If your team can't openly share tough feedback, and feel safe and supported doing so, it's going to be VERY hard to open this up to outside voices.

Second, use FORUMS not FORMS. Community building happens one conversation at a time, when you share your idea with a form, that really is not a conversation. Submitting a frustration or idea into the abyss isn't very satisfying or supportive. Forums can be actual online forums, or you could host a virtual or in-person listening sessions between leadership and your community. This way we're having a two way conversation. Remember: even tough conversations build bonds!

Finally, closing feedback loops is so important. I helped run comms through a big change for hosts at Airbnb. We started by opening up the conversation with hosting through in person listening sessions with leadership. We then gathered the top 5 areas of concern for the community. We shared these publicly through multiple channels. And over the next 6 months we continually came back to these 5 areas and gave product and policy updates on each. We worked hard on closing those loops and building trust. As you can imagine this was a full team endeavor.
More examples
Reddit has a Mod Council and posts public updates and minutes from council meetings regularly. They'll share the impact these council meetings have had on policy and product updates. I also love Reddit's Adopt-an-Admin program that teams up a Reddit team member with a mod for a few weeks to really understand what they experience as moderators.

When I managed a series of 60 global events for Airbnb, we invited 40 team members to help us run these events. We had a data scientist team Airbnb hosts how to maximize their listings for search, we had our team lawyer running the check-in desk, and we had a lead designer set up a booth to show new onboarding flows to hosts.

What we didn't expect, was the incredibly passionate and positive response from these team members. We (the community team) work and get inspired by hosts day in and day out, we were able to share these community vibes and this helped grow respect for the community and our work. This project even unlocked new partnerships with product and data science teams!

More examples in this thread!
Community-inspired Teams (and People!)
It is a JOY to work with an engaged, mission-driven and activated community. Sharing that joy with the rest of your team can really help you make an impact and gain support.
Here are some prompts to start thinking about how you can get your team closer to and get  inspired by your community:
1. What can we do better together?
Quick story: early on at Etsy we had to manually merchandise a new home page every 30 minutes.  We would take shifts working through the night to publish a newly curated home page. At the same time we had sellers emailing us lists of items they thought should be featured. Thankfully, our product and engineering teams saw our struggle and worked with us on a community-first solution. We created something very much like Pinterest boards, that anyone from the community could merchandise, and we could push these collections live to the site. Etsy sellers came up with even more creative lists than we would! Some spending hours every day coming up with creative groupings.

2. What do you have access to that you can share together with your community?
At Etsy, when we first started we didn't have much. But we did have a big empty warehouse. We filled a corner of it with craft supplies and equipment and we let anyone come by and craft in the space. Some days you'd walk by this area and see an Etsy seller teaching our founder a new craft, or an engineer testing out his screenprinting skills. At the same time we could get feedback from real community members at any time of day!

That space evolved into an incredible event space called the Etsy Labs, where we held hybrid online/offline events where you could make your own swag, jump in a photo booth, and learn from other community members.

3. How do we create opportunities to build bonds between the entire community?
I'd love to throw this one out to the reader, how have you seen or created ways for team members to connect with the community?

If done right, connecting your team and your community helps give team members a deep understanding of the impact they make! They'll be able to stretch and strengthen soft skills, feel a deeper sense of belonging, and even create more influence and trust in your industry.
Getting everyone to care
Give your team the resources they need to show return on community engagement. People want to know that their participation ladders up to business outcomes and your mission.

Leadership should model and reward behavior. Now you might have leaders who are strong advocates, but what can you put into place to make sure that this isn't a preference, but this work reflects the company culture.

Finally, as a community builder, you should create these opportunities often and use your skills to motivate, inspire, and reward team members who participate. Community builders are resourceful collaborators, storytellers- use these skills to your advantage!