I'm a bit of a productivity and Personal Knowledge Management (PKM) geek. I wouldn't call myself an expert. I'm more of a follower. I do love exploring ways to create processes that work, share knowledge and generally be a more effective human being.
I explore new tools, approaches and tactics with curiousity in the hope to always be improving my own learning and processes.
And over the years, I've come to a realisation...🥁....drum roll...🥁 ...
Where I'm most consistent in sharing my knowledge and feeling like there is a real impact is within community. My personal PKM efforts are always messy and inconsistent. However, when I have a commitment to a community, I tend to succeed better in collecting and sharing information. I make it part of the process.I listen. I gather. I share. I write. I connect and uplift others. I start small and build up confidence.
The consequences of this are gradual and powerful...I'm very aware that this is how I learn. This is how I become an expert in what I do. A community can be a huge contributor to becoming our best selves together, in collaboration and as openly as possible. I never complete courses, but I always come back to community for support and knowledge sharing.
And it is because of this that I believe Community Knowledge Management can be magical for people, communities and the wider ecosystems. It even goes to the extent that if I don't feel like my posts or comments in communities have value, or potential longer-term value it will stop me from participating. For me, it's important that my contribution matter and have a potential impact. Every member should feel this vibe.
I feel we've barely touched the surface. So I hope this article inspires someone somewhere to think of their community from the perspective of Community Knowledge Management.
First, a brief look at Personal Knowledge Management (PKM)
Definitions are helpful, this is from Wikipedia.
Personal knowledge management (PKM) is a process of collecting information that a person uses to gather, classify, store, search, retrieve and share knowledge in their daily activities and the way in which these processes support work activities. It is a response to the idea that knowledge workers need to be responsible for their own growth and learning. It is a bottom-up approach to knowledge management
PKM has helped me look for what feels interesting or important. To take notes. And ultimately process by thinking. It is what has led me towards creating and writing. And then ultimately feeling the need to create community around the things I care most deeply about. PKM helps me get work done.
I don't think Community Knowledge Management (CKM) should replace PKM. Perhaps it's more that they happen in alignment, or they can compliment one another.
For example:
when I share something with my community, I may also take note of it in my own PKM efforts, and vice versa.
community activities and discussions can influence our PKM
Or if I have a community that I manage I may set up a way to log interesting discussions that I feel could or should be explored further.
Or the tweets I put out is one way of doing PKM. Which is also a way of sharing with people and the community. I can always search my own tweets to remind myself of things I've spoken of (...as long as Twitter still exists, of course). In this sense, I don't tweet for attention, I tweet to make a note of a thought.  
So what is Community Knowledge Management (CKM)?
I love having a quick go at definitions, so here's my current version.
Community Knowledge Management is a process for collaboratively collecting information, insights, stories and perspectives with the goal of supporting a community and the ecosystem with their own learning and growth.
With Community Knowledge Management we understand and believe that people have knowledge, stories and understandings to share. Perspectives matter. We learn from each other. It is bottom-up rather than top-down.
CKM allows us to believe in the power of the people and their stories for growth. We don't need permission or authority to grow. We need to find ways to unlock the knowledge, ideas, experiences and stories within people.
CKM isn't just notetaking. It's discussions. Collaboration. Blog posts. Interviews. Talks. Insights. Research. Courses. From within the community, or further afield in the ecosystem.
CKM is about processes. It's UX. It's making it easier to find information and people. It's the tagging. It's the search. It's the findability. It's encouraging everyone to contribute in a way that they feel able to.
CKM is understanding that there is a need for information on-demand. That life is so much better when information is gathered to help us find things quickly.
CKM is community-serving, not self-serving. It is understanding that we all know something that may benefit others and that we can find ways to help people through thoughtful sharing. It's about understanding that we are smarter together, rather than individually. And that our ideas are built from each other, whether we realise it or not.
CKM is about taking that question that is always being asked and creating a resource for it. To open people's minds and to save everyone time, give them new insights and perspectives.
CKM is about connecting the dots and spotting the gaps. We can start to find insights, connections and new ideas based on what is being shared. In fact, I'd argue that a big part of CKM is community discovery—we are learning about the community and trying to figure out what their needs are.
CKM is just one part of community building. It is not everything. It should be a percentage of our efforts.
There is no one way to do Community Knowledge Management
Perhaps the most successful CKM project out there is Wikipedia. What an amazing resource that has become for the world. Of course, it comes with its own challenges, but amazing nonetheless. Communities can inspire to create such great resources, and I'd love to find and support more examples of community-driven CKM efforts.
Whilst the ability for anyone to add and edit content is great, I don't think communities have to have that to support Community Knowledge Management. And often, it becomes a distraction and full of spam. For me, it's more important to have the goal in mind to support sharing of knowledge. It doesn't have to be a free-for-all.
With that in mind, I think there are some important things to consider.
All types of content could be Community Knowledge Management: it could be our forums, our live streams, blog posts, interviews and so forth. The key is to really include the community and find ways for them to share stories. I think we all know how hard it can be to positively extract the knowledge within us. People are busy. Or lack confidence. Or are just unaware how much value their experiences and knowledge is worth.
It takes a process and investment to get there: sure the crowd, or the community can help. But there's a lot of admin work that goes on behind the scenes. Many people and communities are not up for this. Perhaps it's just not cool enough.🤷🏻‍♀️ But as always, consider starting small, it's a process!
Some things can be totally down to the community members: perhaps like editing of a wiki or adding comments. Other things may be left up to the community team, like collating the information and creating an article out of it.
Where should these efforts live? Behind the scenes it's a community effort, however, it might show up elsewhere as something else. A member comment may lead to an interview, that a community manager has identified as 'interesting'.
A collection of Community Generated Content may be the foundation of a comprehensive guide. Notes from a collaborative discussion could turn into a course. The output of our work doesn't always get labelled as "community work".
It's messy and takes time: conversations everywhere. How do you organise it? How can you encourage tagging or sorting of what is out there? It's a minefield that takes time and investment, but it is worth exploring. UX should be considered. Community professionals can't be experts at everything.  Ask for help! 😊
It's about caring about your industry: This will be deadly boring for some, but if you care about why your community is there to serve, it can be so exciting and lead to so many learning and connection opportunities.
Tooling is lacking: But it shouldn't stop us from moving forward. I've used Notion for a while (screenshot below of resources I've been collecting for our paid members). It's wonderful, but it's hard to be collaborative with it. It's too easy for someone with access to accidentally delete everything. 🙈 So, at the moment, it's just me collecting the community wisdom out there.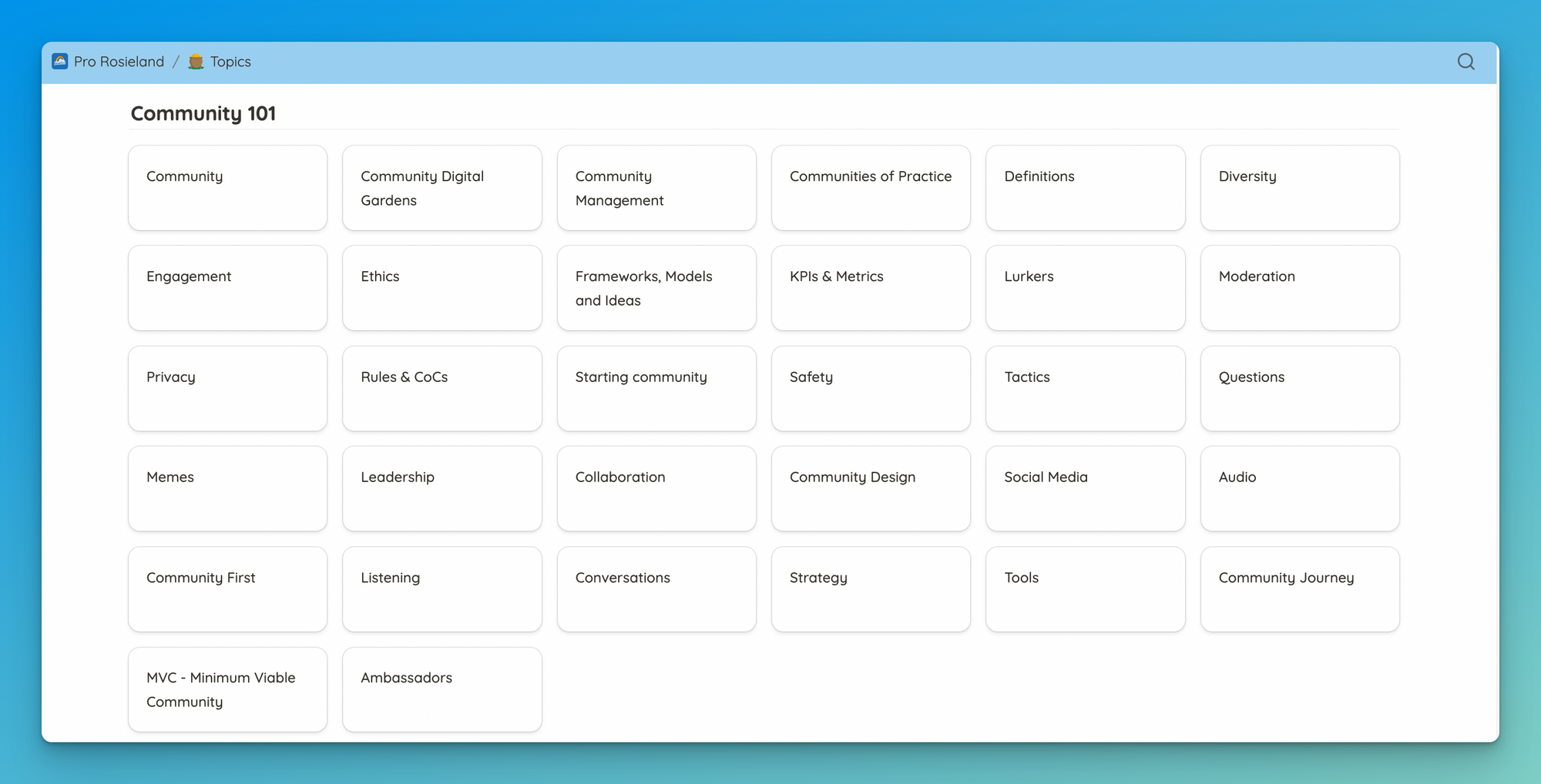 I am edging towards moving most of my efforts to The Village. I'm not sure people realise that the capabilities of Discourse are pretty big for Community Knowledge Management. In The Village we share short form ideas, we call it Glitter (think of it like Twitter, but sparkly). We have discussions. We have Wikipedia like pages where anyone can add their thoughts and resources. .
Here's a collection of Community Building Books. And also, of course, for this post, I've created a post for Community Knowledge Management. Anyone can edit these. It makes my heart sing! 🎶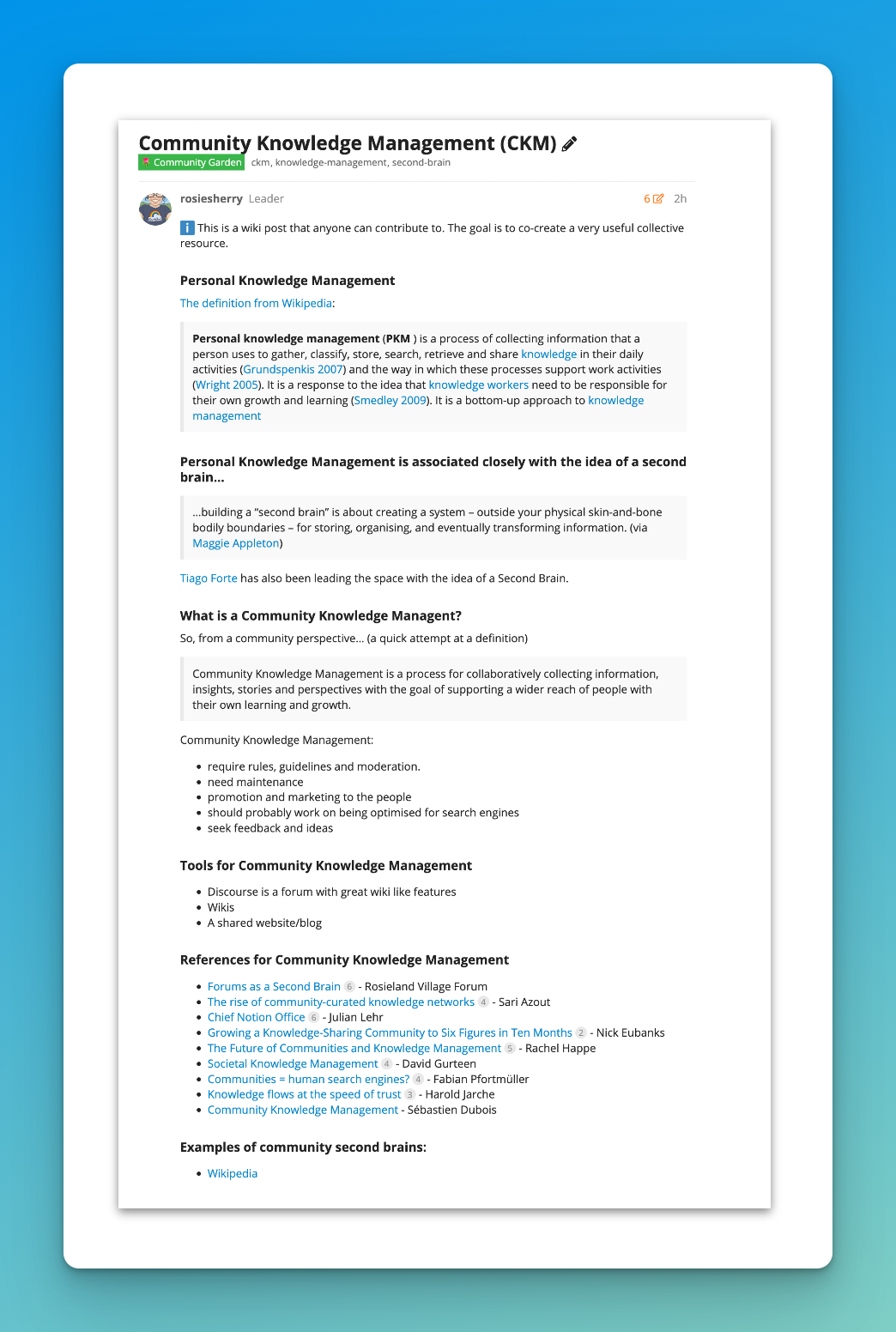 There's more coming soon. There is big potential should you choose to be up for the challenge.
Industries have been flipping and flopping between different models of existence
The news and media industry have had struggles over the years between free and paid content. Where things like paid content are behind paywalls. This has led to misinformation and the inability to share valid, researched and factual information.
Community will have similar challenges too. Whilst there is room for all different types of communities and community business models, one aspect that we shouldn't dismiss is the real value of finding ways to create value with our people and for the greater good.
Community Knowledge Management is one such way to help work towards this. Sure, it's not for everyone, but part of me thinks that every niche or industry should have an open resource like this.
And this is partly what I'm trying to work towards. 🐌